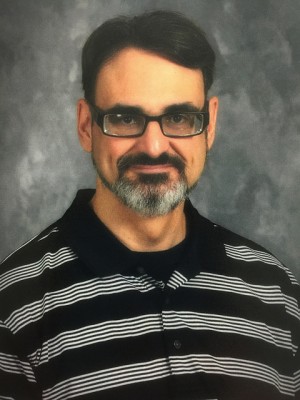 Mr. Alfonso (Al) Gonzalez aka EducatorAl
National Board Certified Teacher – Early Adolescent Generalist (2004 & 2014)
Master of Arts in Teaching
ISTE Capstone I & II Certified
Teacher Twitter Account
Classroom Twitter Account (hasn't been used in years)
Classroom Facebook Page
Alfonso, Al, González is a National Board Certified Teacher (2004 and renewed 2014) as an Early Adolescent Generalist and has been teaching for 26 years, 20 of those in the Chimacum School District. Al has a Masters in Teaching and has completed both the ISTE Capstone I and II showing fluency in the ISTE Student and Teacher standards. Al has been integrating technology into his classes since 1991 when he brought his Tandy laptop into his 4th and 5th grade class in South Central Los Angeles for students to use as a learning center. Using his AOL account Al connected his inner city students with students in Vassalboro, Maine. They traded videos on VHS, sent through snail mail, back and forth, sharing their similar yet uniquely different experiences.
Now Al teaches Science and Technology to 6th and 8th graders in a 1:1 student to laptop environment. Al has enhanced his school program by getting grants for 21 of the 26 years he's been teaching and 19 of the those 21 years were consecutive! Yeah, that's 19 straight years of getting at least one grant a year! Al has received Learn and Serve America service learning grants, Best Buy grants, CenturyLink grants, foundation grants, WEA Innovative Educator, ING Unsung Hero, HP Technology for Teaching, WA STEM Entrepreneurial, Ocean Guardian Schools, and other grants to integrate technology through great projects into his Science classes.
1990 – Graduated UCLA with a major in Psychology
1991 – Began teaching 4th and 5th grade at Main Street Elementary in South Central Los Angeles
1991 – Began the L.A. Unified School District Intern Program
1992 – Received a Los Angeles Educational Partnership grant for $500 to bring the Internet into his class! (1st grant ever)
1993 – Received a Josephine Bay Paul and C. Michael Paul Foundation, Inc. grant for $3,000 to start a school newspaper!
1994 – Completed L.A. Unified School District Intern Program
1994 – Earned California Elementary Teaching Credential along with Bilingual Certificate of Competency in Spanish
1996 – One year contract at Blue Heron Middle School in WA teaching 7th grade Language Arts and Social Studies
1997 to present – Teaching at Chimacum Middle School (currently 25th year teaching)
1998 – Earned Certificate from UW for Teaching, Learning, and Technology
1999 – Received two major Technology Equipment and Training Grants!
2000 – Started Chimacum Middle School's Water Quality program with three grants!
2001 – Earned a Masters of Teaching Degree
2003 – Attended a National Science Foundation (NSF) Patterns Exploration Training in Florida!
2004 – Earned a National Board Teaching Certification as an Early Adolescent Generalist
2004 – Began a three year NSF funded North Cascades and Olympic Science Partnership (NCOSP) training program.
2006 – Best Buy Teacher Award grant for $2,500 and a Target Field Trip grant for $1,000 on top of the Learn & Serve America grants for the 6th grade Water Quality Project!
2006 – Best Buy School Award grant for $15,000!! (out of the 1,300 teachers who won the $2,500, 250 were asked to apply for this $15,000 school grant and my application was one of the 50 chosen! We were also able to apply for a $250,000 district grant from Best Buy!) See the article in the Kitsap Sun! We applied for the district grant but it was given to the San Diego school district. You win some, you lose some. At least we tried.
2007 – HP's Technology for Teaching Grant! Mr. Gonzalez, Mr. Thomsen, Mr. DiPrete, Mr. Olafson, and Ms. Langston teamed up to write a proposal for a 6, 7, 8 Math and Science project. The team of five received equipment and will get training totaling more than $31,000! Click here to see the 06-07 items.
2007 – OSPI's Learn and Serve America Mini-grant year two funds were increased from $4,000 to $7,046! There was more money for service learning so Chimacum students get access to more field trips and more equipment to study our creek's water quality and the Hood Canal.
2007 – Chosen as one of six recipients of the 2007 Hooked on Hyrdoponics Award (M-1 package) from the National Gardening Association! Equipment totalling $900 for the 7th grade Life Science program!
2008 – As part of the HP Tech for Teaching grant Al completed an International Society for Technology in Education (ISTE) certification course. Al received his ISTE Capstone I certification. Teachers who complete the Capstone courses showcase exhibits of projects they create and conduct with students to show proficiency in all the National Education Technolgy Standards (NETS) for students (NETS S) and for teachers (NETS T).
2008 – Now that the NCOSP grant has ended the Science partnership expanded and we here on the peninsula have our own Olympic Math and Science Partnership (OMSP). I am now working with OMSP to form a team of middle school and high school Math and Science teachers here at Chimacum. We call our team Math Science PLC (short for Professional Learning Community) and we meet several times a year to work on improving Math and Science instruction here at the Chimacum Schools!
2008 – Last year of my Learn and Serve America mini-grant. Again my funds for this year were increased so I will be spending $9,000 on our water quality project! This year I will be teaching only two of the three 6th grade Science classes because I will be teaching all three 8th grade Science classes.
2009 – Thanks to Math and Science funds from WA state Al was able to take the second ISTE Capstone course and receive his ISTE Capstone II certification.
2009 – A Learn and Serve America Sustainable Design grant again for my Water Quality Project for $5,620!
2010 – OSPI's Learn and Serve America Sustainable Design grant Year 2 for $10,000 for my Water Quality Project!
2010 – Chimacum School District to use Solo 6 as part of our Water Quality Project. $2,000!
2010 – WA STEM Entrepreneurial Award for $10,300 to help teachers use Social Media to better teach and reach students!
2010 – Friends of Chimacum Schools Education Foundation for $595 to replace a broken Water Quality project Vernier LabQuest.
2012 – The Washington Foundation for the Environment (WFFE) as part of their Nonprofit Environmental Ed $1,000 for the Water Quality Project!
2012 – The ING Unsung Heroes awards program $2,000 for the Water Quality Project!
2012 – Worked on renewing my Early Adolescent Generalist National Board Certification! (I renewed!)
2012 – Worked on the Presidential Award for Excellent in Science Teaching! (Didn't move to the next step.)
2013 – Received a grant from WISE for $250 to teach about invasive species!
2013 – Received a CenturyLink grant for Technology for $5,000!
2014 – Got a WA STEM Professional Development Grant!
2014 – I was chosen as one of the five finalists in WA State for the Samsung Solve for Tomorrow contest! I only made it to the first round, but at least I got two Samsung Galaxy Tablets!
2015 – Got to participate in the Olympic STEM Pathways Partnership representing Chimacum!
2015 – Got to co-present with two fabulous presenters at a WEA Innovation conference for four days!
2015 – Got to co-present a WEA TPEP Formative Assessment session with another fabulous teacher at the West Sound Summer Institute!
2015 – Got a Friends of Chimacum Schools Foundation grant for $300 to purchase two Sphero Balls!
2015 – Year 2 of our WA STEM Professional Development grant!
2015 – Received an NEEF Grant for $750 for our Environmental Stewardship Project!
2015 – Received $245 in donations via an Indiegogo Campaign, that raised awareness and our very WeAct Club raised $350, the WA State Trooper's Association donated $900 and the Friends of Chimacum Schools donated $1,000 to start a Student Tech Support Group at Chimacum Middle School in the hopes of getting more computers into the hands of students! (That's a total of $2,495!)
2016 – Received a CenturyLink Teachers and Technology grant to enhance the Student Tech Support Group (ChimTech) for $5,000!
2016 – Received a Peninsula Credit Union grant for our Environmental Stewardship Project for $500!
2017 – Received a grant from, and became an, Ocean Guardian School for our Environmental Stewardship Project for $4,000!
Grant successes: grant writing leading to over $353,000 in grants in 42 grants and 19 straight years of getting at least one grant per year! (See grant history.)
Read more.