This is another cross post I wrote on the IEAR website.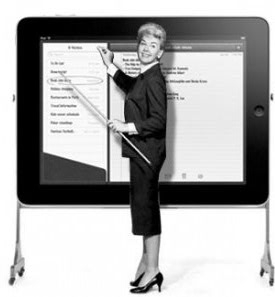 Zemanta's August 13 post regarding, "What do teachers really want in an 'Educational App?'" has hit the nail on the head. Ever since I bought my first iPhone back in 2008 and since then seeing kids use their iPod Touch I wanted more than what most of the educational apps I was finding were providing. Then the iPad came out and I knew that, with all its promise, it would be a while before it could deliver completely. Zemanta's post received a great comment from an app developer. I can understand the problems that developers are facing and I believe they will overcome many of those problems and that Apple will reach a balance whereby we can get educational apps that can be used for more than just drill-n-kill. Does it help us now? Not really. I also believe that the iPad will someday have cameras like the iPhone or maybe even the iPhone 4 and that we'll be able to maybe even film videos and edit them like on the iPhone. But it's not that way yet. My problem with that? I have grant money to buy a set of iPads this Fall. When iPads improve I won't be able to get them. Life's tough, I know, at least I will have a set of iPads. I'm not realy complaining, I'm just saying it would be great to have them fully functional now.
I've been thinking of the ways my students will use the iPads I'm getting the way I'm getting them. My principal was able to purchase me an iPad to try out over the summer so I've been trying out different apps. Another helpful blog I read was David Warlick's Technology for 21st Century Learning: Part 1. In his blog article David impels us to make sure we're not adopting new technologies because they're new or gadgety. He too writes about the iPad in education and how it's not at its full potential yet. He also writes, "21st century leaning has nothing to do with iPads, iPod Touches, or any piece of technology.  The only thing that is one to one that we should be concerned with is equitable access to rigorous, relevant, and irresistible learning experiences that reflect and harness the times, environment, and ultimate goals of the learning." That got me thinking again about how I plan to have my students use the iPads and other assorted machines I have for students in a 1:1 environment.
My goals for integrating technology into my middle school Science courses is to have my students Create, Connect and Collaborate. From the simple, lower bloom's taxonomy activities to the higher level activities students will hopefully be motivated by having "their" technologies available in school. Of course having "their" tech in school and not allowing them to use the tech in the ways they are accustomed to is not enough. So here are some ideas for using iPads in a middle school Science classroom (here's where we got to after a year of using iPads):
To read. Students can read websites for research or pdf files that we load onto iBooks. I plan to have students try out the VoiceOver feature if they struggle with reading or prefer being read to. With a 1:1 all students can read at their own pace. Annotating and note-taking is possible right on the iPad even with the Notes app or using an app like Documents2.
Once reading is done students can access their blogs from the iPad and write about their reading. By writing and reflecting on blogs students can comment on each other's thoughts. This helps students both Create and Connect. For writing blogs or taking notes students can try the Dictation app to speak their ideas right onto the iPad.
By working on webquests or project/problem-based-learning activities and labs students can Collaborate to come up with a solution. Using their iPad students can use Idea Sketch or Adobe Ideas or Sundry Notes to brainstorm how they will share their solution with the rest of the class. If they plan to use Prezi, Xtranormal or some other Flash based web 2.0 tool to share they can send their ideas to the team's desktop computer or netbook via Dropbox or email. I also have CloudBrowse to see if they can use something like Prezi and Create right on their iPad.
Let's also not forget YouTube. My students use YouTube often to find videos to share with the class to show what they've learned as well as to learn.
Using Documents2 to write notes students can get those notes to the team's google docs using again Dropbox or email. Students will have the option of taking their notes individually since they have enough machines. I used to have two to three students using one computer and while one typed away the others were often unengaged. Having all my students blog and/or take notes at the same time is exciting and we don't even have to go to the computer lab!
Using Dropbox, email, or Flickr students can get pictures they take in class and then with PhotoPad they can edit their images.
To Create images for their blogs or other products students can draw with DrawFree, iDraft or Comic Touch.
For backchanneling class discussions and answering questions we will use Twitter with Twitbird Pro. This gives all students a voice while allowing them to Connect and Collaborate in class.
I do have some exciting Science apps for students to use but I expect that once the novelty wears out they won't be used as much. Those apps will be much more useful when we actually have a reason to use them, for example when studying the effects of nitrates in our creek, NO3, students can use the The Elements app to look at nitrogen and oxygen up close and personal. The Elements is an example of an app that is absolutely gorgeous. The best way I have seen to view and learn about elements. As a novelty item, with no purpose, kids may ooh and ahh at first but soon will lose interest and move on to something else. I don't have that many reasons to use a periodic table because I don't teach chemistry but I still had to have that app for those few times I could use it. It is just stunning.
So having my students read, annotate, take notes, learn, write, communicate, share and comment with few or many apps I think will be the bread and butter of how we will use the iPads in my class. Moving files from and to the iPad will be essential especially since we will be using google docs to Collaborate. Besides using the flashy apps, what else can we do with our iPads?