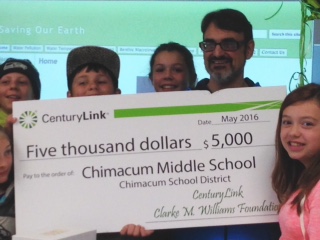 Two weeks ago I wrote about a failed grant opportunity. I had written and submitted a proposal to CenturyLink for their CenturyLink Teachers and Technology program back in January. We were supposed to find out if we got the grant by April. When April came and was quickly becoming May I started to panic. Was I going to get one of those dreaded thank you for application but letters? I searched and found a teacher that got the grant. Someone had already heard. At that point I thought those of us who didn't get the grant were going to hear last because the teachers who got the grant are the ones who get notified first, of course.
I even wrote that post two weeks ago about my obsession with writing grants and getting money for some very cool projects. I wrote how writing as many grants as you can is the way to go because you will miss some. The more grant proposals you send out the more chances you have of getting a project funded. So you can imagine my surprise when last Monday, while training a group of students on how to use their water quality testing equipment so we could go down to our creek and collect data, our school counselor comes in and tells us that she has a visitor who wants to share something. I was actually bothered thinking it was an ASB announcement or some such thing. I was going to say, can this wait, we're really busy right now, but instead I held my tongue.
In came two adults with a giant check and a bunch of CenturyLink balloons! I was floored and speechless. I was thinking, "could this be the CenturyLink grant I didn't get?!" Well, it was! They found my project worthy of funding! I'm so excited and, quite frankly, relieved! I thought it was a great proposal and was wondering how I could have made it any better and now I have validation that it was good enough.
I'm including a copy of my proposal for those interested in seeing another one of my sample grants in case you need ideas or motivation or just to see how easy it is to write one of these! Here it is:

Here's a link to the above Google Doc in case it doesn't show for you.