Back in 2011 I wrote a blog post about going full circle, kind of, from integrating technology by having students work 1:1 student to computer in a computer lab to having computers in my classroom. In the classroom I started with one computer for all students to use, then I upgraded to a 1:4 student to computer, then 1:3, then a 1:2 with mobile devices, the 1st generation iPads, and finally a full 1:1. Almost full circle except that the new 1:1 was in the classroom so that the tech was available for anytime students needed it instead of having to wait for the computer lab to become available.
Last year I wrote about our use of iMacs in my classroom. In 1998 I got the Bondi iMac and it was great. But we only had one. When I got some big grants I was able to purchase ten new iMacs and by that time, 1999, they were the multi-colored, fruit flavored, iMacs. They were awesome and lots of fun, too. A couple of years after that I was fortunate to be able to replace all those lovely iMacs with the faster, improved eMacs and that really helped us because those poor fruits were starting to slow down on us.
The eMacs servied our needs very nicely but even they started to wear out. Thank goodness that in 2004 I got two nice grants from Best Buy and replaced the ten eMacs with ten 2004 G5 iMacs. These were power houses compared to the eMacs, with a 2GHz Core 2 Duo processor.
Fast forward to 2017 and those 2004 G5 iMacs are ancient. After a few years of using the 2004 G5 iMacs, when it was time to replace them I was still getting grants, but by then I was getting grants to buy iPads, Netbooks, Laptops, and Chromebooks. I kept the iMacs because having 10 computers in the room PLUS the mobile devices, gave my students a 1:1 so they could work as needed, whether that meant individually or collaboratively.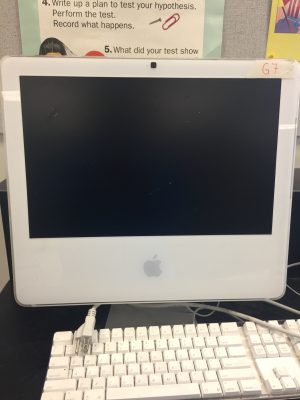 The 2004 G5 iMacs reached a point where they could NO LONGER UPDATE THEIR OPERATING SYSTEM! They stopped updating at MacOS 10.5.8. For perpective, MacOS is now up to 10.13.2, which is light years ahead of 10.5.8. I would honestly set up the iMacs every fall expecting kids to tell me that Youtube no longer worked, or that they couldn't access any Google Apps whatsoever or even that most Flash or even HTML 5 websites would not load. I am continually amazed that we were able to continue using those things year after year. Oh it wasn't easy because they had problems. We had to find work arounds for much of what we had to do, especially with regards to Google (we also could NOT update any of our browsers – think of how often your browser asks you to update it so that it can continue to work). What those iMacs DID DO WELL was in using the software that was native for them such as iMovie, Comic Life, iPhoto, and even other software like the software we needed for our digital microscopes. For those things, they are still amazing!
This year I got the great news that finally, after years of asking and planning, the middle school was going to get a computer on wheels cart with Dell Laptops running Windows 10 for every, single classroom! First of all, that meant that for the first time in my teaching career since taking kids to computer labs I am going to have all students on the same device AND operating system! That means that I can teach one way to make something and they can all try it before they forget! That means that I only have to make ONE how-to video! As much as I appreciated having different devices to expose my students to different operating systems, this is going to be sooo nice. Second, this meant that I could finally retire those 2004 iMacs!
I have to say, after 13 years of service, I will miss those iMacs. They have been a constant in my room and they have been there for so many students. I still didn't waste any time surplussing them once school let out. I am really looking forward to have regular computer issues and not the major issues we've been having for so many years. So as much as I apprecaited those workhorses I heartily say, "Goodbye, 2004 G5 iMacs! You had a great life here at Chimacum MIddle School."