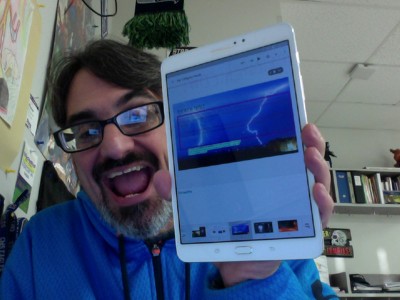 When I received a couple of Samsung Galaxy Tablets running the Android OS I created a teacher account to buy and download apps for the devices. I then added student user accounts so that kids would not have access to my account, especially my credit card. In order to do that I made the student accounts restricted accounts.
When students worked on a shared Google Slides vocabulary activity I found out that the restricted user accounts on Android tablets did not allow the use of the Slides, Docs, or Sheets apps. Google Drive and Google Classroom apps were allowed though!
So I thought students would be able to access Google Slides via the Chrome browser. That did not work either! There was no way for students to access their slide deck!
Recently I received another two Samsung Galaxy Tabs, the S2 this time.I tried them out to see if the restricted accounts could access Google Slides. No luck. It worked the same way.
So I decided to create a regular user account. The regular user account does not have access to my account but the regular user account has access to the Google Play Store so they can download apps. As long as they don't enter credit card or Paypal information they can't download paid apps.Through the regular user account I was able to download, for free, the Google Slides, Docs, and Sheets apps! Yes! The Google Drive and Google Classroom apps were still available too.
So using the regular account I setup, students can access all of the Google tools we regularly use! But, yes, there's a but, they now can't access the paid apps that I shared with the restricted user account such as Book Creator, Explain Everything, PicCollage and my video editing and image editing apps. So students will need to access different accounts to use specific tools but at least we can do what need to do! This is how I use these devices in a classroom environment where they are shared.