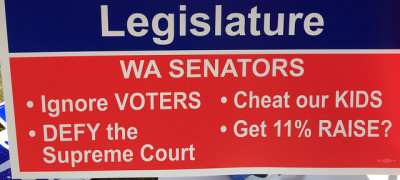 This morning instead of having a half day of school Chimacum teachers unanimously voted to ask our district to cancel school so that we could participate in our state's school walkouts urging our legislature to fulfill their paramount duty to fully fund education. My last post explains why we chose to walk out and protest today. So far 31 schools have had one-day walkouts and there are more planning walkouts making 57 WA state schools staging one-day walkouts as of today to let our legislature know that they need to comply with our state's Supreme Court and fully fund education!
Teachers chose today, Friday, May 15, because it seemed a day that would least impact our community. First, it was supposed to be a half day today. Second, there are many events happening with our local festival that many families attend that many of our kids are already focused on the carnival, the parades, and all the fun they'll be having this weekend. Yes, our school year has had one day added so we're going until Monday, June 15, instead of Friday, June 12. Monday will be a half day so we're giving up a half day now to make it up later. And even though it affects our district and our community there was no good day, much less a better day, to do this and today seemed the least disruptive. We do have a very supportive community and very supportive families and a wonderful school board, which makes it easier to stage a protest for our children. It is, after all, for our children that we are doing this. And besides we are the McCleary Court Case school district. It was that case, first won at a superior court, then won at the Washington State Supreme Court, that fueled these protests.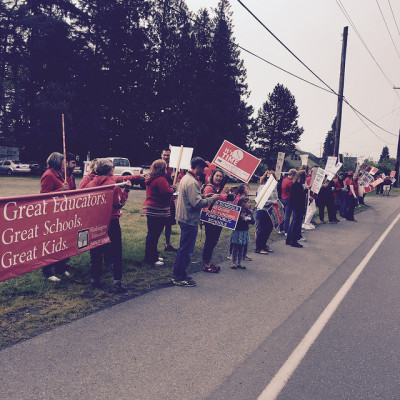 We started with by showing our support and wishes for our students, for our future, to have a fully funded public education. We had teachers, both classified and certificated staff, parents, and students holding signs and waving at passersby.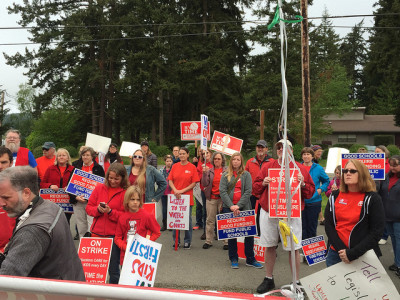 Then we had a rally where our state union vice president, our local union president and some teachers spoke.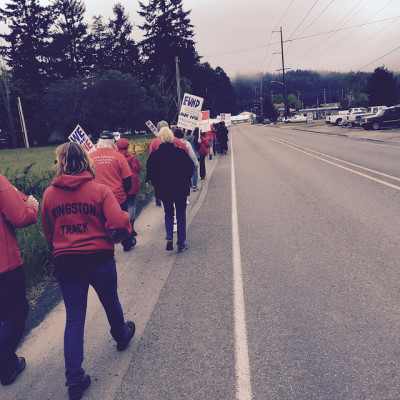 Then we walked to a four way stop for more waving and poster showing.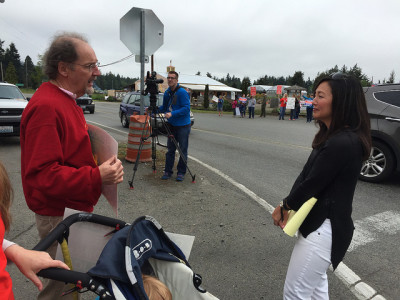 One of our local news stations, King 5 News, sent a top reporter and anchor, Elisa Hahn, to cover our story! Here's our local union president, Todd Miller, talking to Elisa Hahn.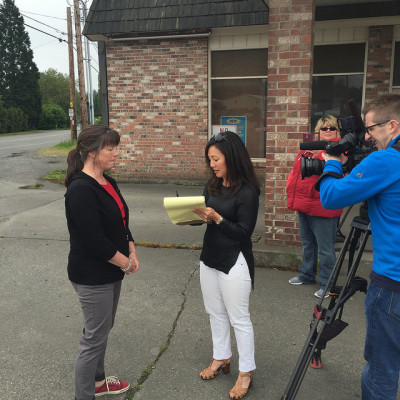 Why did a major news station, along with our local newspapers, the Peninsula Daily News and the Port Townsend Leader, show up to a small country school walkout? It's because we are the McCleary Court Case school district. The woman in the above photo, Stephanie McCleary, our district's executive secretary and personnel director, was the lead plaintiff in the court case! There's Elisa Hahn talking to Stephanie McCleary! Being the school of the lead plaintiff in what has turned out to be an unprecedented turn of events for public education and getting the funding our kids need puts us in the position of being in the public eye. Personally I'm glad we stepped up and joined the efforts to send a strong, united message to our state's legislature.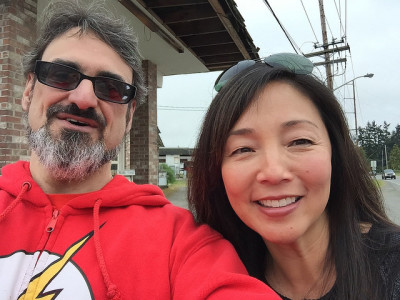 I selfishly took this opportunity to get a selfie with Elisa Hahn! How cool is this? 🙂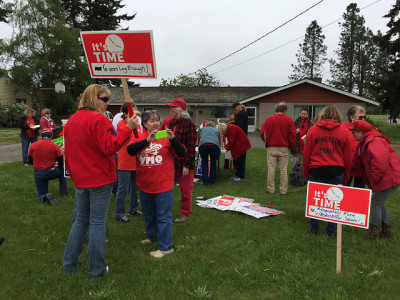 We took turns handwriting letters to our legislators helping them understand what we are asking for to ensure that our kids have a fully funded public education: voter approved (two times in a row!!) lower class sizes I-1351, a reduction in testing for our students so the focus of their education is NOT how to take a test, and pay that will attract and retain high quality teachers including health care support in line with other state employees.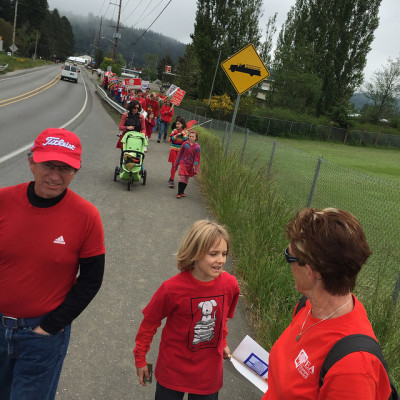 We then walked a few miles with our red for ed shirts and signs.
We ended our day of action with some COLA floats. 🙂
Here's the King 5 News coverage of our walkout: