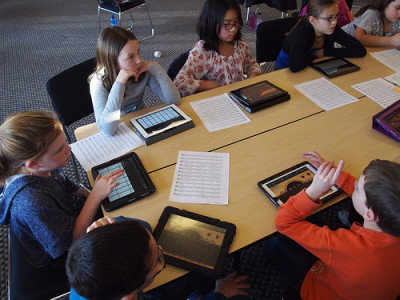 I took my Twitter Storify notes from NCCE 2015 and put together all the notes from the 1:1 implementation sessions I attended. I attended as many of those sessions as I could to best help my building prepare for our 1:1 initiative for the 2016-17 school year. Next year, 2015-16, will be our planning year as we run a tech levy to pay for our 1:1 plan.
1:1 Suggestions/Recommendations
Planning for 1:1
– Implementation of anything is only as successful as the leader in the building!
– Have you asked students how they might learn differently if they had their own device?
– Adequate bandwidth (You can never have too much bandwidth so get a bid for more than you think you'll need!), digital training, & a plan for replacing damaged devices.
– Get more cable than you think you'll need! Access point in EVERY classroom. Plan ahead!
– Take into account the number of devices NOT just users! Some kids will have 2 or 3 devices.
– Repair plan, vouchers for students who damage their iPad. Students pay to replace & still school's property. One school offered parents a school insurance plan. Parents could pay the school $35 and if their child's iPad broke, the school would fix it. (In order to do this the school needs a place they can take their iPads to and have them fixed.)
– Training for teachers! School has to have goals as they plan to integrate tech, especially going to a 1:1, so they know what PD is needed. Powerful 4 teachers to see other practitioners integrating tech. School visitations so they learn that they can do it too. Understand why resistors are reticent to adopt tech do you can work with them. How do we empower teachers to integrate tech instead of shaming their lack of tech skills at tech trainings?
– Same software for whole district helps. Have a standard for teacher websites. (How do we find balance between standard, our district uses 365 online only, vs giving autonomy & choice?)
– When implementing 1:1 make sure you measure the right things to show growth & that isn't necessarily standardized test scores.
– How to measure success of tech implementation: device vs instructional practice, not about any one platform, PD relational and not about one and done. Outcomes, students AND staff, celebrate/share, build capacity, self efficacy, effective PLC's.
– Used Meraki to monitor proper use of iPads. Internet can be turned off if inappropriate use.
– Teach kids digital citizenship because some may be new to being online & digital. Digital Citizenship is key because it's not plausible to filter offsite. Here's a digital citizenship resource: https://www.commonsensemedia.org/educators/curriculum
– When planning to go 1:1 a group of HS kids, called iClub, got iPads first to test them out. They learned how to use them to learn and do their work. Once the whole school went 1:1 the iClub kids provided support to students and teachers!
– HS kids from iClub shared that digital note taking has made their classes more interesting!
– When moving to a 1:1, "Get ready to embrace discomfort by modeling that struggle and failure lead to learning, redefining how you teach."
A lot to think about. Our first step is to get that Tech Levy passed. Then we can begin planning! (And only two years behind schedule.) 🙂