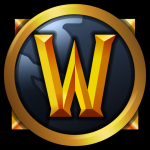 This all started as a 6th grade Exploratory class offered to all 6th graders for one quarter at a time.
Students got off to a great start last quarter, the first time this class was offered to 6th grade students.

As students began the class they agreed to our class charter, thought and wrote about bravery and cowardice, they contemplated their digital footprints, they practiced typing, they researched different World of Warcraft races and classes, they thought about their hero's journey and some even wrote stories about their hero (here's one 6th grader's hero story and here's another one in progress), and they did all this work during the formal, more traditional learning parts of the class. In World of Warcraft, as in many adventure stories, there is a "good" side and a "bad" side. But in World of Warcraft players can play their hero for the "good" side or the "bad" side making those labels of good or bad subjective, depending on which side you play! So students spent the last two weeks of the quarter trying out the other side, the enemy of the Alliance, the Horde! The journey of a hero is fraught with obstacles and the nemesis fights hard to defeat the hero. Part of this course was to end by learning the story of our enemy from their side to get a more complete picture of that world.
Here's a glimpse into a day of playing brand new characters from the Horde (looks a lot like the beginning of the course!):
Overall the course was a huge success and I'm expecting nothing less from the remaining two 6th grade classes for the current quarter and for the last quarter of the school year. They will enjoy the class, live an adventure with their classmates during the school day, and learn many things in the process. I mean seriously, who says learning can't be fun?! And let's not forget the value of play (these are 6th graders after all!).
Sixth graders are typically 11 to 12 years old and the ESRB rating for World of Warcraft is T for Teen because of, "Blood and Gore, Crude Humor, Mild Language, Suggestive Themes, Use of Alcohol, Violence." Knowing this I was not dissuaded from bringing it into a school setting for a few reasons.
1st – I played World of Warcraft as both my kids were growing up. They watched me and the game honestly didn't seem that bad to me considering there are really bad games out there. They both wanted to try World of Warcraft so by age 9 or 10 I let them each try out a few characters on my account. It wasn't bad at all. There didn't seem to be much blood, especially at the early levels, I warned my kids to stay away from rude or crass players and most players were really kind and very helpful, my kids didn't buy alcohol in the taverns so that was never an issue, and the suggestive themes could easily be avoided and overlooked by enjoying the game. Some of the characters dance more suggestively than the others and that is one thing that is unavoidable because kids really do enjoy watching their avatars dance. It's funny and each race has different dance moves.
2nd – I got the idea to use World of Warcraft in school from teachers who created the curriculum and have been playing it with their own students! And their students have been younger than mine.
3rd – I know, as a teacher and a father, that the best way to teach kids right from wrong, how to deal with inappropriate players or people in general, and how to avoid inappropriate situations is by letting practice all of those things. I want my own kids, and also my students, to learn by doing. And if they make a mistake, mess up, or witness something inappropriate I want them to talk to me about it and maybe even discuss it with the whole class.
This wasn't my first time using World of Warcraft in school. I tried using it for a Science lesson with my 8th graders last year and although it wasn't the best game to teach the Science lesson it was a highly engaging activity for my 8th graders.
So here is some feedback I got from my 1st quarter WoW students:



Kids were able to choose more than one choice above but a majority played in small groups with their classmates and completed quests. A small contingent spent a majority of their time exploring the world of Azeroth with their character. This group seemed to take a long time to finish their pre-game work so there were no kids who reached level 20 (the maximum level for the free, trial version of World of Warcraft). I did have a handful of kids reach levels 13 to 16 so I used one of my paid account characters to take them into a low level dungeon. It was fun and more of a challenge than just questing (they died a lot!).


Most of the kids enjoyed playing both sides, the Alliance and the Horde, equally. The rest were split between one side or the other. I thought that was pretty nice.


Out of 27 kids only five said they would not take this course again. Seventeen said yes, they would take the course again. Of the eight that chose other, two said maybe, one said idk (I don't know) and five said definitely or for sure. So a majority enjoyed the course enough to take it again but frankly, I thought the numbers would be higher. Eight out of 27 kids either saying no, maybe or idk was quite a shocker to me. We'll see how my other two classes enjoy this course.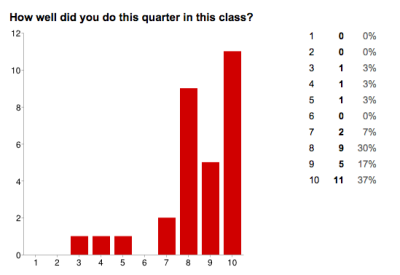 Not everyone did well in this class. I had two kids out of the 27 who never completed all the required work to actually play the game. One was plagued by absences and never got caught up in nine weeks and the other gave up trying and I noticed her spending a lot of time watching her friends play (she did admit that she enjoyed watching her friends play and still enjoyed the class – go figure!). Others didn't get very many non-game assignments done and some didn't feel that they were very successful playing the game because they didn't level up fast enough (meaning not as fast as others in the class).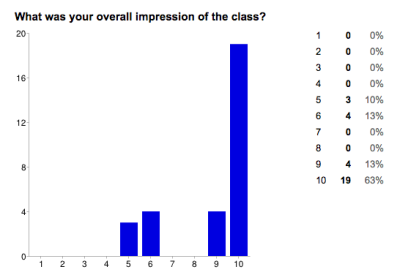 Overall more than 76% of students had a positive experience (some of the kids who rated the class a 5 or 6 were actually rating the class from the previous quarter and the World of Warcraft class together and really weren't rating the World of Warcraft class that low) and learned something. The main reason kids rated their impression at 9 or 10 out of 10 was how much fun they had playing World of Warcraft. Some said it was great being able to play a game during school and that they looked forward to coming to 4th period. Aw.
Just about everyone improved their typing speed by practicing some typing every week using Typing.Com. Other skills that kids reported practicing or learning in class included:
cooperation
problem-solving
imagination
focus
patience
goal-setting
hand-eye coordination
thinking skills
literature
think before you speak
friendship
balance
teamwork
diligence
responsibility
self-control
research
"not much I just had to use my brain"
🙂