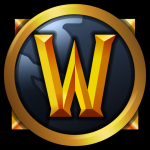 Every 8th grader in both classes has figured the game out to the point that they are all playing and don't really need me anymore. Kids playing the same race characters are helping each other so they are experiencing successes. So I was able to start a character in each class! There are some perks to being the teacher. My second period class is playing Horde so I started an Undead Priest. My 4th period class is playing Alliance so I started a Human Priest. I'm not that familiar with those so I'm learning right along with my students.
Students are beginning to reach levels 6 and 7, so they are getting close to 10. By around level 10 we can all leave our starting zones and all meet in one place! Now I have to figure out where to have everyone meet and how to get them all there. Once we all meet I will have them form small teams. Then I plan to somehow divide the area into zones where small teams will go to start collecting living things to figure out how best to classify/organize them. Our next computer lab day is Monday. We'll see how far 8th graders get!
That gives me some time to figure out where to meet, how to get everyone there, and how to divide up the map. Any ideas?