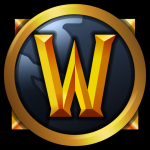 Today went much more smoothly. Kids were able to sign in to their accounts much quicker, everyone made sure they were on the Sisters of Elune server or realm, and questing began! Most kids got to about level 3 with some experienced players getting beyond that (especially if they got to play some yesterday and most of the period today – approximately 50 minutes today).
We did run into another snag that perplexed me. Some kids, about two in each class yesterday and again today kept having their game disconnect. Checked the Internet connection and the computer was working fine. Had some kids try a different computer and they kept getting disconnected from the game! Now that was weird because everyone else was playing just fine.
Then by the time the second class was playing we noticed something, those accounts that were getting disconnected were the same accounts for both parties! Disconnecting was happening when one kid would forget his or her number and use an account that was already in play! So of course disconnected kept happening because I told kids, "just keep logging in when you get disconnected so you can play." lol It's so cool solving these kinds of problems!
So even though I thought kids would be fine remembering their ONE number to access their accounts it didn't happen. So I got help writing down which student was assigned which number because I was asking kids and not doing very well at remembering what each one said! Duh, right?
Now I have kids come into my classroom two days a week during lunch to play Minecraft (just for fun) and it gets pretty loud. I was expecting something like that, kids yelling across the room, "help me with this quest!" "Where do I find fel moss?" To my surprise I did hear those types of requests but it was so quiet. In both classes! It was such a relaxed, fully 100% engaged, helpful atmosphere. I found it refreshing. Here's a peak at what it was like during both classes: