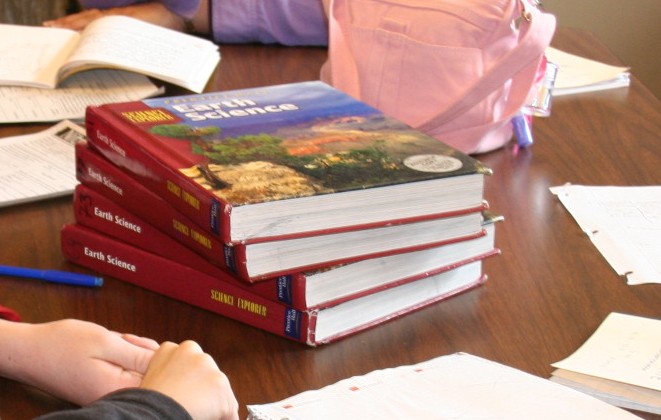 Students, teachers, and schools can have access to cell phones, smart phones, iPods, tablets, netbooks, or even laptops to learn. Any of the aforementioned devices allow for learning on the move, which means anytime, anywhere learning. The technologies have the power to expand the classroom and transform learning and education to something it has never been before. Take fractal geometry. Fractal geometry became a workable math when technology made it possible to "see" shapes such as the Mandelbrot Set (see the history section). In the 21st century technology has the power to make many education traditions obsolete. Even something like cheating is no longer clear cut because if I can look something up on my iPhone, why shouldn't I? Tests clearly have to be rewritten because if your answers are so easily Googled then maybe they aren't very good questions!
One area of education that is being explored recently is the textbook. The textbook is a hallmark of traditional education and schooling. The textbook, much like grades, is one of those things in education that people hold on to as completely necessary to educate children. But is it? Or better yet, is it really necessary in its traditional, bound form?
If someone were to ask me what my students use instead of textbooks, it's the web. When my students need to learn something they use Google to look it up or I put together a list of specific websites for them. The websites provide text with hyperlinks for more information (or to go off on tangents), youtube videoes, or interactive websites where kids can test things out virtually that we can't do physically. I haven't even considered anything like an ebook mostly because we don't have much of a budget. If I can't buy it then I'll use something else and free what I need!
In order to expand my limited view of what textbooks can evolve into I've been reading some great blogs from folks who have been discussing how we can transform textbooks. This movement has been called Beyond the Textbook (#beyondthetextbook) and here are some great resources:
– Here's a #beyondthetextbook infographic that Richard Byrneshared. Richard brought this whole beyond the textbook thing to my attention on his What Would You Have Me Say to Discovery About Textbooks? blog. Here's his follow up: Podcast and Reflections on Beyond the Textbook
– Here's a piece by Audrey Watters on Beyond the Textbook
– David Warlick has written a few blogs on his journey with this whole topic:
– Here's one by Tom Whitby: "We Don't Need No Stink'n Textbooks" #Beyondthetextbook
– Here's one by Dean Shareski: Beyond the Textbook
– My Diigo textbook bookmarks
There's a lot to read and digest but it's worth it to keep abreast of what could be possible. So enjoy those great blogs and see what you think about the future of our textbooks. And if you can't get to your computer lab and you don't have computers in the classroom find out how many of your students currently have a cell phone, smart phone, iPod, or some other mobile device that they can use anytime in your room. Even if half of your students have a device then imagine all the things they could do in pairs!