Just a couple of years ago this is what my progress reports looked like. This is what I would give students every three to four weeks for the whole school year. This was what I thought would motivate my students. A majority of them were never motivated by this. And those who got "good" grades? They craved those points and A's. They depended on them and wouldn't do anything to jeopardize their A's.
It wasn't the kind of learning environment I wanted for my students, to say the least. I wanted Science learning to be an exploration where curiosity and mistakes both went hand in hand. Where students could look up anything they wanted at any time. Where texting and Facebooking were life lines and not "cheating."
First thing I had to do was to get rid of grades. With support from teachers like Joe Bower I approached my principal and she supported my plan wholeheartedly. Our school year is divided into three trimesters with three final reporting periods and three midterm periods. I tell all my students, sometimes 135 out of a school of around 250, that in order to take the emphasis out of grades and in order to make failure and mistakes something necessary for learning that all of them will get a pass from me for every grading period as long as they learn something.
Grading being out of the way, I then needed ways to give students feedback. Here are two great blogs for ideas of how to give feedback without grades: Replacing Grading by Joe Bower and SE2R approach to narrative feedback by Mark Barnes.
So I tried a form of standards-based grading. I started with the standards that most closely related to the projects and activities that we were doing. Knowing from Alfie Kohn and from my own experience that numbers, letters, stars, or any type of mark will be the main focus I used words to let kids and parents know if they were showing understanding of each standard from the work they did in class. Here's what a standards-based progress report looks like using Easy Grade Pro:
This way students and parents can see what the standards are so that if students have ideas about how they want to show learning or ideas about different ways to learn it they can! That's really about all it's good for. It doesn't provide any feedback at all because it's summative. I'm also experimenting with this Marzano style rubric using the standards to have kids self-assess their understanding by providing evidence themselves:
Both of the above methods are summative, as grading tends to be. Basically, I use the standards-based progress report as a hook. If parents see that progress report and they get curious I explain that to get a better picture of what their child is learning in Science they should visit their child's Science blog. That Science blog is their child's electronic portfolio for Science. Everything we learn in Science either becomes a reflection question or a share what you've learned assignment. Each blog has a list of assignments followed by the actual assignments their child has completed and had published: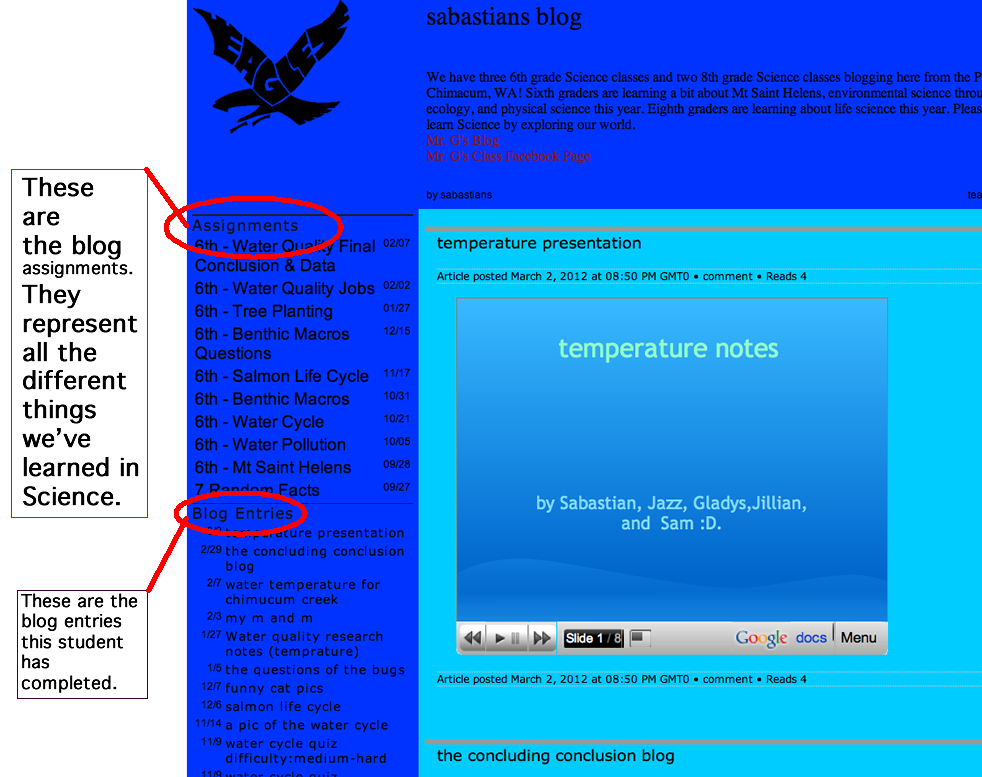 Now time for a reality check. I know the best way to give my students feedback is with written narratives much like Joe Bower and Mark Barnes describe in their blogs. One of the least effective ways is to give them verbal feedback (telling them instead of writing it down). I see 134 students a day. I do not have the time to provide valuable, effective feedback on everything we do. No one can. Even with traditional grading many assignments are just checked off trying to pass for feedback. So I give my students verbal feedback as often as I can each and every day because I know that I cannot give every student narrative feedback on every assignment.
First line of attack is to check in on students, ask questions, and give feedback to help them progress. If I notice through formative assessment activities that a small group is having a problem I will sit with them and question them to help them figure it out. If it's a majority of students who are having problems with something I will do a whole-class re-teach or offer different resources for kids. I can give feedback based on what I see them writing on their blog assignments, which make great formative assessments.
Whatever method you use to give your students feedback I believe that it will be more effective without grades or any marks. How often do teachers say that students just look at the grade and don't even read their comments?! The comments is what the students need to be reading, not a number, a letter, or a mark. Yet that mark will take precedence. Try leaving out those percentages, numbers, letters, or marks and focus on the comments.