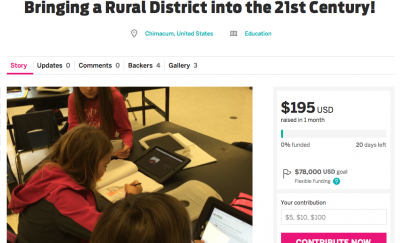 It may look like our 1:1 middle school Indiegogo Tech Campaign is not doing very well. We've only raised $195, not even enough to buy one Chromebook. I'm very grateful to those friends who cared enough about our campaign to donate. It's very gracious of them.
The good news is that this campaign has some other contributors who have not donated via the campaign website. The other day at parent/student/teacher conferences I not only heard how supportive many of the parents are being by sharing our campaign through their social media connections, but two families in particular are helping out monetarily.
One family reached out to a trooper's association and they are going to write a check for $900! That's three devices we can buy right there! Another family told me that besides sharing the campaign with her contacts she is going to put a fundraiser together to get more technology for our school! Exciting indeed.
If you don't mind, please share this post and our campaign. I'm not giving up hope that there are people out there willing to donate if they just knew this was going on!
Here's our 1:1 tech plan: